Commission Work
One of the greatest joys in my life is reaching and connecting with people through music (See: literally every link here on my site!). I wrote my first song when I was 15 years old, which ignited a spark of self-expression that I'm still exploring to this day. However, some of the most rewarding projects I've finished over the years were in helping other people's musical visions come to fruition. I'd love to help elevate your project, idea, or event in any way I can!
Below are just a few examples of commission-based works to which I've had the pleasure of contributing my time and talents:
---
CUSTOM WEDDING SONGS
Once upon a time, Matt and Kristen contacted me for a custom acoustic song to celebrate their upcoming nuptial – and one that would double as the background to their first dance. It was an honor and a pleasure creating this song for them!
"Surrender"
Guitar and Vocals by Benjamin James Howard
Engineered and Mixed by Marcus Davies, with Add'l Engineering by Benjamin James
About the process: The couple gave me a few examples of artists they jointly appreciated, which provided me with plenty of context for their taste in style of music. I had the idea to interview them separately about what they remembered from the first time they met, and devoted an entire verse to each of their unique memories/perspectives. If this is something you would like for your wedding or celebration, feel free to drop me a line in the contact form below so we can get started!
---
CUSTOM FILM SCORE + OTHER MEDIA
Series Creator/Writer David Gregory approached me to supply theme music and miscellaneous score/cues for an audio drama called Powder Burns, which he produced from 2015-2018. Each of the 7 episodes features my music with some additional layering in Episode 6.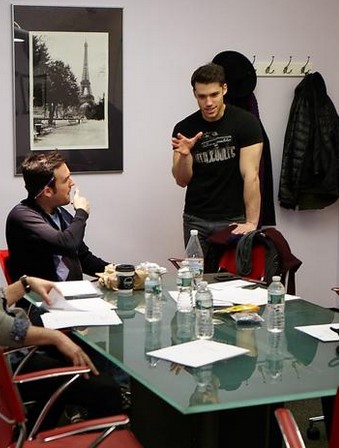 TESTIMONIAL FROM DAVID A. GREGORY:
"I got to know Ben's work because of his band, Pluto Revolts. We began to discuss collaborating together on a scripted Western podcast I was developing. I sent Ben music samples I wanted to emulate in the score. He was eager and attentive and responded in a timely manner — and got it right on the first try. Over the course of the creation of the show, he composed new music that had to be based on material already written. And once again, Ben delivered: putting his stamp on an existing piece, honoring it and lifting it beyond what I anticipated. For that episode, we swept every award we submitted for, and the show is constantly commended for how the music weaves through the emotional fiber of the show without overpowering it. The restraint shown by Ben in this instance is most important because he knows when and how to use his gifts.
Ben is the consummate professional and a musical chameleon. He's sharp, punctual, creative, and ravenous: All the qualities you'd want in a collaborator. Assuming you've read this much, I'm not exactly sure what you're waiting for. There's a lot of tough decisions to make in your day, hiring Ben Howard isn't one of them."